Your kids worked hard throughout the school year to learn and improve their language skills, don't let summer get in the way! For most kids, summer means sunny days, road trips, or making sandcastles on the beach. While they may avoid actual academic assignments, it's easy to find some creative ways to help them practice. There are simple things you can encourage kids to do at home this summer that will keep their bilingual skills active, without taking away any of their summer fun. Here are a few ideas.
1) Incorporate Summer Vocabulary Into Your Field Trips or Vacation.
These months many families are planning and enjoying their summer getaways. Whether you're going to the local zoo, the beach, or on a road trip somewhere fun, there will be lots of things for your kids to see or talk about.
Before embarking on your field trip, have your kids watch Little Sponges' fun, real-life videos from the Beach Adventure or the Safari Adventure.
In the Beach Adventure, Little Sponges puppets will teach kids vocabulary related to things that we often see at the beach and help them communicate about their vacations (ex. ocean, sand, shells, dolphins), typical vacation clothing (ex. swimsuit, hat, sunglasses) and they experience various types of weather and use different words to describe it (ex. hot, sunny, cold, windy, rainy).
During the Safari Adventure, Mishka and Frog teach students about different animals, birds, and reptiles that live in Africa! This way they will be able to enjoy their trip to the zoo, as they will be able to identify and name the animals they will see there.
A great activity that you can do with your kids is to ask them how they would describe something they see during their trips in the target language.
"How many of these zoo animal names can you say in Spanish? How would you describe them?" or as you walk along the beach, play with your kids "Name the Object" and ask them to name things that they see at the beach. You can also practice numbers vocabulary by counting with seashells, ask your kids to count out loud how many seashells they see on the shore.
2) "Travel" To Another Country
Give your kids the opportunity to "visit" a country where the target language is spoken, so they can hear the language from native speakers and learn a little more about the culture.
With Little Sponges Globe Adventure, your kids can "travel" around the world with the puppets to immerse themselves in the countries where people speak the language that they are learning! For example, if they are learning Spanish, you can take them on a virtual tour to Spain, Mexico, Cuba, Argentina, and Guatemala! Your kids will be able to apply their Spanish skills to learn about these countries! If they are learning French, take a trip to France and Canada, or "fly" to Germany and visit a castle to practice German. 
The Globe Adventure makes it fun to learn about geography, flags, culture, cuisine, landmarks, architecture, arts, nature, and sports in each country without leaving home!
3) Prepare a Foreign Dish
Many children love to help with cooking, parents can spend a night cooking a foreign dish together. Your child can research the recipe and culture and share fun facts, traditions, and vocabulary with the rest of the family.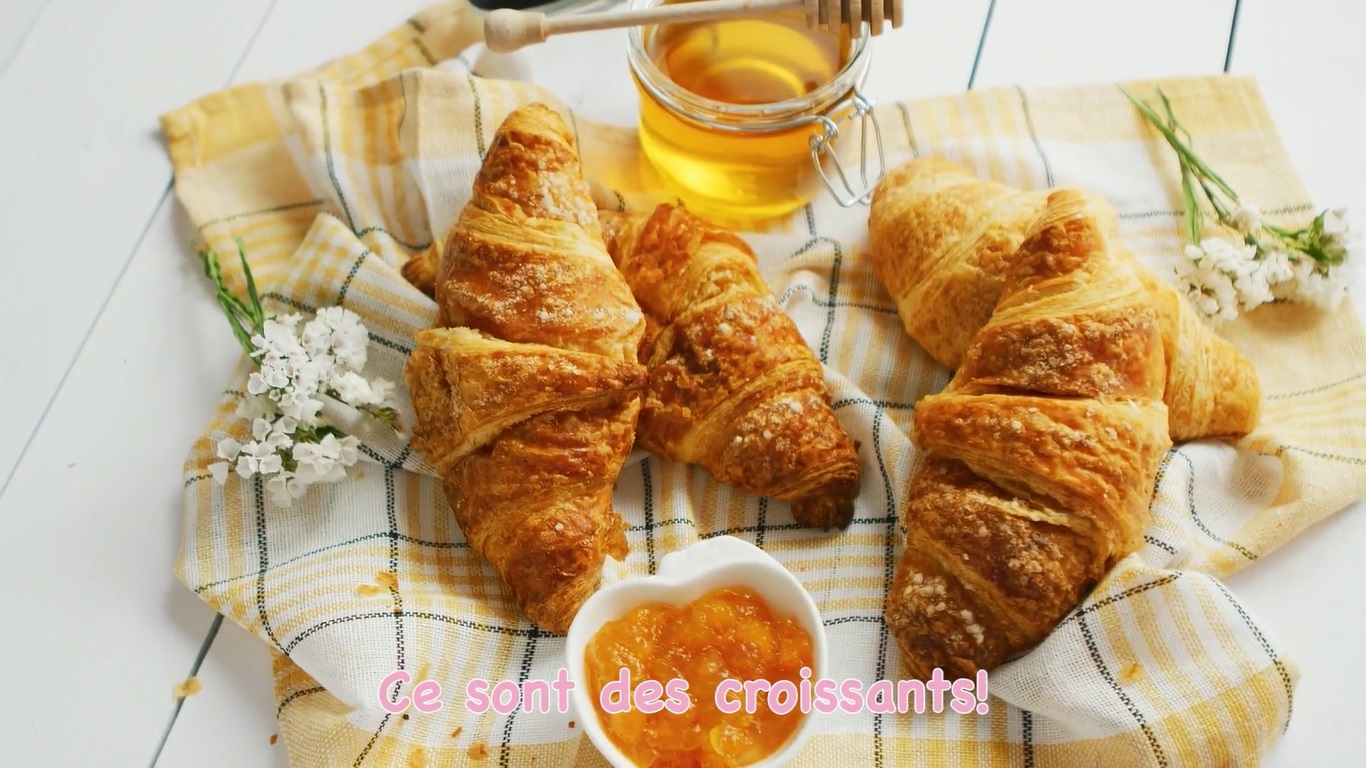 With Little Sponges Globe Adventure students will learn about traditional dishes from the countries where people speak the target language, as well as the culture and traditions. 
By watching Little Sponges Farm, Garden, and Forest Adventures, students are able to draw connections between different foods and their sources. In the Garden Adventure, students see how different types of fruits and vegetables grow. Some grow in the ground and some grow on trees. For example, they'll be able to make connections between apple trees, apples, and apple juice while practicing new vocabulary. In the Farm Adventure, connections are drawn between cows and milk, chickens and eggs, wheat and bread, bees and honey. In the Forest Adventure, children will learn about different types of berries, mushrooms, and nuts.
Practice naming all of the ingredients in the second language. It's a great way for kids to feel more connected to the language and culture. Whether you're making crêpes or tacos, not only will your child get to practice new vocabulary, but the whole family will also get to try and enjoy a new dish.
4) Play Their Favorite Children's Songs
Music helps us retain words and expressions much more effectively. The rhythm of the music, as well as the repetitive patterns within the song, help us memorize words. Bilingual children, in particular, can benefit from singing songs in their second language.
The Little Sponges program uses engaging songs to make learning fun for young children! Who doesn't love to sing and dance with friends? The list of songs and tunes from the Little Sponges' adventures include: "Old MacDonald Had A Farm", "Itsy Bitsy Spider", "Twinkle, Twinkle Little Star" and much more.
Hearing their favorite tunes in a different language will help them improve their listening skills and reinforce their vocabulary. Summer drives are perfect for listening so, encourage your kids to sing along with the puppets and they'll be learning new vocabulary without even realizing it!